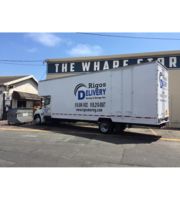 Plus
Moving

Self Storage

Pool Table Movers
Request a Quote


from this and similar pros
Request a Quote
from this and similar pros
Moving
Self Storage
Pool Table Movers
Piano Movers
Send payment
Servicing:
Los Angeles

,

CA
San Francisco

,

CA
San Diego

,

CA
+ 16 more
Phone number:
(818) 693-1602
Skills
Moving

Self Storage

Pool Table Movers

Piano Movers
About
Rigos Delivery Moving and Storage Inc. is a fast growing moving company located in the center of San Fernando Valley with 15 years of moving experience. Our experience includes but is not limited to high end furniture stores, consignment stores, antique furniture, imported furniture, art and furniture galleries, local and long distance moves, pianos, statues, props, assembly and reassembly. We also offer flexibility and short notice moves.
Servicing
Los Angeles

,

CA
San Francisco

,

CA
San Diego

,

CA
Bakersfield

,

CA
Fresno

,

CA
Brentwood

,

CA
West Hollywood

,

CA
Glendale

,

CA
Beverly Hills

,

CA
Pasadena

,

CA
Burbank

,

CA
Santa Barbara

,

CA
Santa Clarita

,

CA
Westlake Village

,

CA
Calabasas

,

CA
Hidden Hills

,

CA
Santa Monica

,

CA
Malibu

,

CA
Thousand Oaks

,

CA
Contact information
Address

7313 Bakman Ave, Sun Valley, CA 91352

Phone

(818) 693-1602

Email
Reviews (3)
They committed to do a move-in day- then went I was all packed told me that delivery will take another 7 days!!!!!!!!!!!!!!!!!!!!!!-
The quote was double that was estimated regardless of the previous description that I gave them.
Moving from one bedroom apartment with 350 cubic took over 4 hours with 3 helpers, I had to start helping them otherwise only to load..then they became rude, unprofessional using profanity towards me ...are you serious!!! Delivery date and time change 3 times and I had to move my appointments for them. after quite a few attempts trough email and phone to reach him I was able to talk to the owner.He is unprofessional , rude and no customer experience what's so ever.
My product was damage, timing was terrible, customer service does not exist, and there is no value for money...For all you looking to move stay away from this company, DONT make the same mistake like I did..yo
I'd definitely recommend Rigos Moving to anyone! Rodrigo (owner) gave me great moving quote. They are professional movers. I moved out of 4 floor (no elevator). I was impressed! Thank you!
True professionals. They did a good job to move my condo without issues and damages.